MOOATRON AND MORE:
A surprise visit from Pierre Veilleux!
The Mellotron says, "Mooooooooooo!"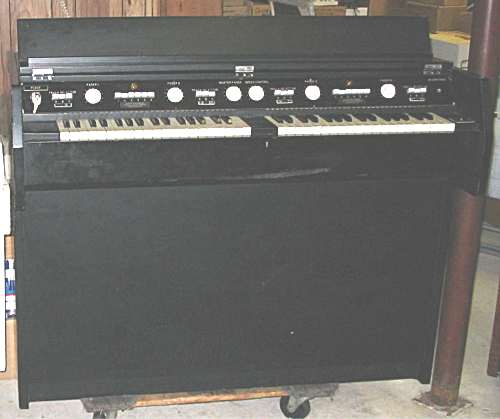 Jimmy Moore and family made the trip to Vermont not only to catch up with all of us but also to deliver his FX Console to Jerry Korb for some work. Jerry has had his hands full with this beastie for a few months now, and in early 2005 we expect to have the unveiling of another Mellotron brought back from years of neglect. More on that later, I assure you.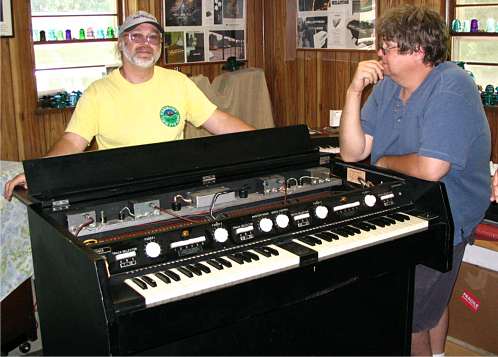 Jerry and Jimmy check out Mellotron FX Console #6
Given that FX Console #6 wasn't feeling entirely well, its playtime was limited, but we did get to check out Jerry's Mark I "Julia". AND we had a special guest---Pierre Veilleux, Mellotron Demonstrator!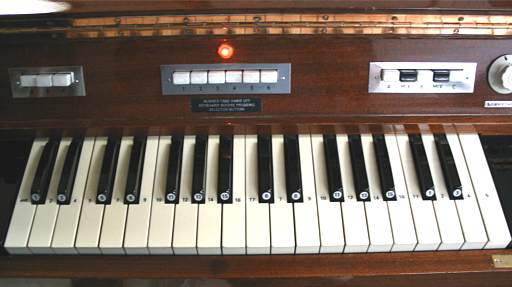 Julia's left-hand keyboard (rhythms and fills). Note that the keys are labeled
with numbers. Song books that accompanied the Mellotron used these numbers
in addition to right-hand lead notes.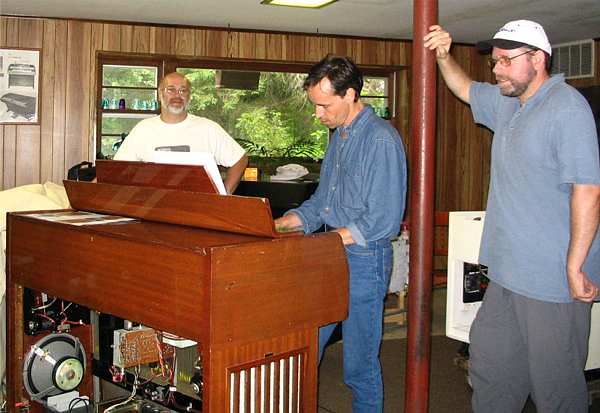 Jerry, Pierre, Ken, and Julia
MELLOTRON DEMONSTRATOR PIERRE VEILLEUX - Video Clip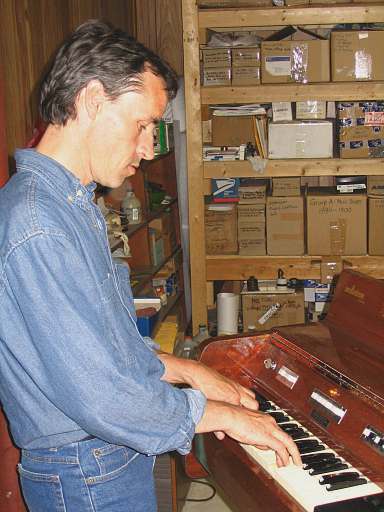 It's great when you have someone around who can actually play these darn mechanical beasts (heck--I can't!). Check out Pierre playing Julia and Larry Fast's M400:
Windows Media AUDIO/VIDEO SAMPLE
1.4MB, 1'54"
Note: Windows Media Player 9 (and maybe later?) may not play this file.
Try an older version of the player or a different player such as The Core Media Player.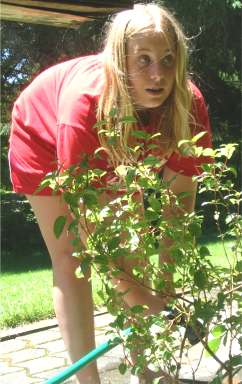 We caught Jimmy and Nancy's daughter Anna
spying on us through the window
BUT the weekend wasn't all fun and no work...Someone did thread a tape frame (how novel!)---me! -->