MONEYPIT
Mellotron Owners of New England Needing Excessive Yen for Purchases for Improving their 'Trons
FEBRUARY 2006 - Vermont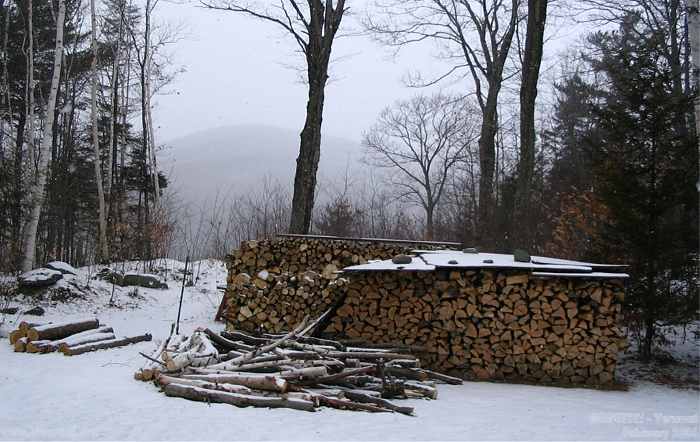 It was back to northern Vermont for another MONEYPIT adventure!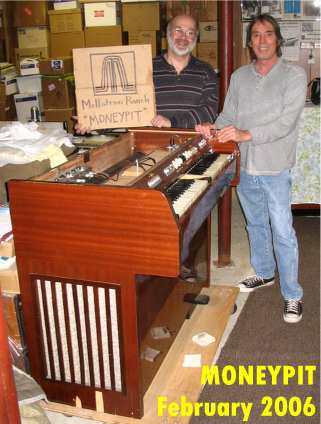 Jerry Korb and Lee Richards
standing behind the Mellotron Mark II "Q-Tron"
This time we'd have as our special guest Mr. Lee Richards from Birmingham (Brummy?), Alabama...formerly of Hawaii and soon to move back there. Lee would be coming along to check out the work done on his Mellotron M400 #541 by Mellotron Professor Jerry Korb.

And Mr. Richards would be heading to Vermont from the warm south on the windiest, coldest weekend of the entire winter.

Meanwhile Your Webmaster would be driving a van all the way up from Boston in a nearly impossible wind storm. And then, of course, it snowed.

But that wasn't going to deter the fun!

| | |
| --- | --- |
| | It's an exciting ride to Vermont (let me tell ya...) |
| | We unveil #541, the Aloha-tron! |
| | Lee Richards and Your Webmaster record Leaving for the Black Sand (now available on Lee's CD) |
| | We knock back a couple of beers |
| | Your Webmaster puts together a MONEYPIT Audio/Visual Retrospective |
Leaving for the Black Sand is featured on Lee Richard's album

...available at CDBaby!
Yours Truly's review...
Click below to start listening to tune snippets
while you're taking in this MONEYPIT adventure:
LoFi/dial-up ----OR---- HiFi/broadband
Sit back, relax, and enjoy MONEYPIT FEBRUARY 2006...
Click here for the Arrival-->

Photos: Ken Leonard, Lee Richards, and Jerry Korb
Text/Layout: Ken Leonard
Additional Text: Lee Richards
Editorial: Jerry Korb, Lee Richards
Mellotrons provided by those blokes in the UK oh those many years ago.
You may get a Mellotron from those blokes in the UK or those blokes in Sweden. You may also get a Mellotron from those blokes on EBay, in which case you may be sending it to some bloke somewhere to get it running. :-)
No 'trons were bodged during the production of this web site...