FREE SYSTEM PROJECT & WAVE WORLD
at THE GATHERINGS
October 13, 2001
Get ready to be put into a trance by some classic Berlin School courtesy of Free System Projekt. Then fly into space with Wave World and become engrossed in their audio/visual presentation.

Almost ready to start the show


The Venue: St. Mary's Church
University of Pennsylvania, Philadelphia
(click thumbnails for larger pictures)

First, let's talk about the venue. St. Mary's is an old church on the U of PA campus in Philly. In the second photo you can see the pipes of the pipe organ they have there (being repaired).

We expected typical church-like echoing, but, wow, the sound in this place is incredible! It's probably due to the very wide area on either side of the stage and a narrower audience section, so the sound just funnels in to where people sit.

It's a great place for an electronic music concert. I really enjoy the intimacy of the setting and getting to chat with the musicians before and after the show.

Note to myself: Pews are very hard after about five minutes. Bring something to sit on. Some folks bring folding chairs or blankets and sit right up front near the performers.
I attended the concert with fellow Mellotronists Jimmy Moore and Mark DiClemente. I had told them about FSP and the Berlin School style of music, and they were really into checking it out. Wave World was a new experience for all of us, however, and I couldn't tell them what to expect.
My entourage and I arrived about 2 hours before the show started, and we got to see Free System Projekt and Wave World going about their last minute sound checks and equipment setups. Mind you we kept our distance to allow those folks to get their jobs done. It gave me time to snap a few photos.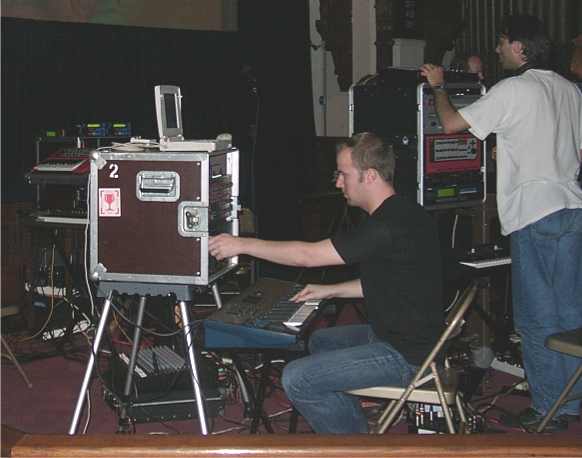 FSP's Marcel Engels and Ruud Heij do some last minute tweaking
Marcel told me that they had a voltage converter crap out during a recording session earlier. Yeah, that would figure. Fortunately the synths were all right, and the recording was only about five minutes along, so they just restarted it.
| | |
| --- | --- |
| Wave World's Gert van Santen and Harry Kessels get things set up before their change into costume | Marcel Engels and Ruud Heij of FSP having a bit of a practice run |
It appeared to me that FSP was having a little bit of trouble with some of Frank's gear, but it eventually got worked out. After FSP and Wave World finished the equipment setup and final checks, we chatted for a little while. Marcel and Ruud were still working out what they were going to do that evening, and I thought that was a good sign--we'd get to see the creativity happening in real-time to surprise us all, even the guys doing the playing! The performers then went off to grab some dinner down the hall.
Jimmy, Mark, and I found the best seats in the house (well, sonically they were all pretty good), and 8pm rolled around. Chuck van Zyl introduced Free System Project, and on they went.
FSP performed three extended pieces squarely in the Berlin School vein. All was improvised, except maybe a few sequences of course, which Ruud dialed up on the MAQ. My Mellotronist cohorts enjoyed hearing the 'tron samples employed by FSP--no loops and no stretching, just all 8 seconds of flute, 3-violins, and 8-voice choir, all 35 notes, and a little filtering.
The most astonishing thing was the effect FSP's music had on me and my two friends. We were, well, really put into a different state of mind by it, kind of a "floating in space" thing but really cool. No other concert or album had ever done that to me, so, yes, there's really something to being there hearing the live music and watching the various kaleidoscope patterns on the projection screen at the rear of the stage.
| | |
| --- | --- |
| IN CONCERT: FREE SYSTEM PROJEKT | IN CONCERT: WAVE WORLD |
After their performance FSP moved their equipment to the side, and Wave World came out. I was totally unfamiliar with Wave World before that night. About the only thing I had heard was that they have a video behind them while they play. OK, that's not really a lot to go on, but I was excited to check them out nonetheless.
Wave World's Gert and Harry came out in robes, and makeup, and they raised their arms in a worshipful gesture as the video began behind them. Moving to their spots behind their keyboards, an accompanying CD or DAT was started, and that's where we got our first taste of Wave World's music. It's rather catchy stuff, with a variety of synthesized instrumentation, driven with a good beat. But it's got a mystery to it, and when you start watching the computer animated video behind them and listen to the music, you soon find the two blending together in a nice, thematic way. They really do fit together.
What's the video about? Well, it's a trip to another planet, what I imagine to be Wave World. There are plant-like creatures there, and the video shows the wonderful way they interact with each other, from tall plants up in the sky to the tiny plants in the swamp, and how they come to be, grow, and move on to new stages of their existence. There was also a fuzzy critter and some artifacts left behind from some unknown intelligence. I kept being drawn into the video wanting to know more about this Wave World and how the life in it worked, all the time being pulled along by the music. Taken together, the music and video worked very well.
Although the recording carried most of the music, in addition to a few live lines on synthesizer, Wave World used an EWI (Electronic Wind Instrument, a saxophone-like MIDI controller) and a MIDI Theremin from Big Briar. It was exciting to see both instruments used. In fact, I had just been talking with Jimmy about the EWI earlier in the afternoon, and he got to see one that night! The Theremin was a real treat, and you could see the performer teasing sounds out of it using a variety of hand gestures. You can't really see the instrument in the pictures I took, but on the right hand side you can see a metal rod sticking up and one out to the right---that's part of the Theremin.
All too soon the video was over, and we were transported back to Earth by the images on the screen and by the music. This Wave World place was left behind, but I felt like I wanted to stay for a little while longer and learn more about it. But all good things must come to an end.
Gert and Harry stood up from their synthesizers, bowed to each other with their gesture of worship, and exited the stage.
Wonderful stuff by both Wave World and Free System Projekt.
BUT the evening wasn't over for these tired musicians! We helped them load up their vehicles, and off FSP and Wave World went to do Chuck van Zyl's radio show! I don't know how they did it---it was already a long day, and it was only getting longer. But they kept going. I had the good fortune to catch FSP's first set on the radio, and it was a corker. It's my understanding that they did another set, and Wave World did two as well. Wow! Great job, guys!
OK, I don't want to start rumors here, but word's out on the street that these guys want to come back to the US to play other places. If they do decide to do this, I highly recommend checking them out. I will for sure!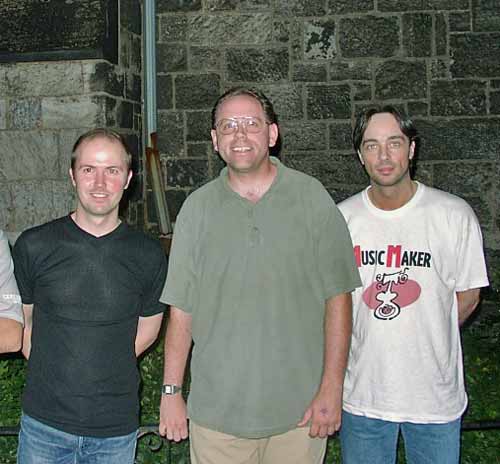 Free System Projekt and guest:
Marcel Engels, Ken Leonard, Ruud Heij
(Frank van der Wel (former member) not pictured)
THANK YOU to the performers for a wonderful show. Kickin' butt. Seriously. And nice to meet you!
THANK YOU to Chuck van Zyl and all the people who helped put on the show. Well done!
Nice meeting Bill Fox and catching up with David K. and his wife Jessica, who are also Bostonians who made it down to Philly to catch the show.
And a huge THANK YOU to my friend Jimmy Moore and his family for their hospitality over the weekend.